Revitalise Private Consultations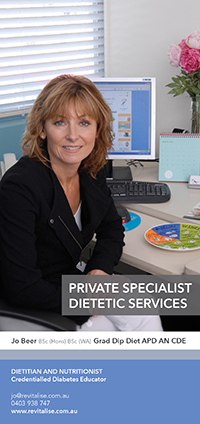 What to expect when you consult with Jo
Initial consultation will take up to 60 + minutes. Your current nutritional status, biochemistry and diet are assessed and a personalised program is devised to enable you to set safe and achievable goals and reach your target weight, manage diabetes or renal disease or optimise your health. We will discuss all aspects of your current lifestyle and medical history to build a full picture of you and your goals. This is essential to devise the most suitable plan for you.
To get the maximum benefit out of your initial visit and ongoing sessions with Jo she will ask you to do one or all of the following:
Get a blood test done – depending on your medical history and referral reason Jo will list the tests required.
Do a food, fluid and if appropriate symptom diary
Compile a list of your current medication, including any supplements
Over a series of meetings you can choose to receive:
Biochemical analysis
Comprehensive nutritional assessment and option for full computer analysis of dietary intake
Detailed, scientifically-backed advice on how to improve your health and performance
Learn which foods can impact which biomarkers
Discover new foods to incorporate into your diet
Receive individual nutrition information for each food
Practical tips, personal eating plan and motivation tools so you can make informed decisions about what you put into your body
Specific targets for calories, protein, carbohydrate, fibre, calcium and key nutrients
Supermarket tour option
Smart phone Apps, recipe books and websites
Contacts of suppliers for specialised food or pharmaceutical products we may prescribe
Find foods for your diet - vegan, FODMAP, gluten-free, 5 & 2 program and more.
Then, depending on your requirements, weekly/monthly meetings can be arranged to assess and continue to develop your personal health program. This can incorporate your preferences from the ubove list and anything else Jo feels will optimise your health.
In between appointments Jo is available on the phone and via email to answer any queries, give support and banish those excuses!
If necessary, we will collaborate with other members of your health care team to help you achieve the best outcome.
Private Consultation Fees
The initial session is $195 (Extended $245) and clients need to allow 1 to 1½ hours.
Follow up consultations $85 (Extended $95) and last up to 30 minutes. Most clients find they achieve the best results by attending at least 3 sessions.
Medicare (up to $53.85 per session) and Private Health Fund rebates available if applicable. Conditions may apply.
Mastercard, Visa and Cash payments only accepted.
Helpful Resources
Appointment Checklist
Please print out and complete this checklist to bring to your appointment
7 Day Food Diary
A printable weekly planner to help you track everything you eat and drink