Specialist Renal Dietitian Perth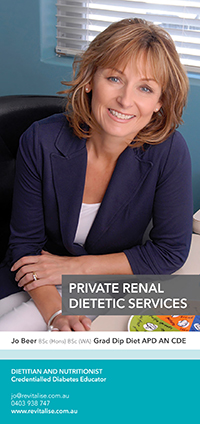 Chronic kidney disease (CKD) is a major public health problem in Australia and throughout the world and diabetic nephropathy is the leading cause of CKD in Australia. It is estimated that 10% of all adults presenting to a general practice in Australia have CKD, and 80% have at least one risk factor for CKD.
The Kidney Health Australia Caring for Australasians with Renal Impairment (KHA-CARI) Guidelines recommend patients with progressive CKD (stages 3 – 5) should have individualised diet intervention involving an Accredited Practicing Dietitian. Overweight or obese people with CKD should also be prescribed caloric restriction under the management of an Accredited Practicing Dietitian1. For those patients undergoing haemodialysis and peritoneal dialysis nutritional status should be routinely assessed at commencement of dialysis and at regular intervals thereafter.
Jo has been practicing dietetics for many years at her private practice. In the last ten years she has gained more in depth experience in renal dietetics during her part time senior dietetics role at Gairdner Rehabilitation Unit and Osborne Park Hospital Young Adult Rehabilitation. Jo has also completed an extensive renal dietetics program at Royal Adelaide Hospital to further enhance her knowledge and skills in this area and is currenlty doing a PhD in this area.
Jo reviews patients regularly with CKD and associated co morbidities to maximise nutritional intervention opportunities and promote well being.
Jo has a Medicare provider number and can accept patients on a Chronic Disease Allied Health (Individual) Service under Medicare, as well as DVA members and can also offer rebates to patients with appropriate private health funds.